Other Services
Training 24/7
TMT UK now offer training 24hrs a day, 7 days a week.
We will deliver training at your venue at a time to suit your needs.
Telephone 01684 773279 or contact us for details.
Useful Links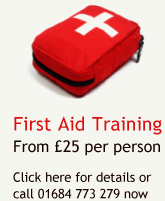 Customer Feedback
Our courses are consistently rated 9.3 out of 10 on our feedback forms and 100% of all our clients say that they would use us again.

Really enjoyed the course, the trainer used his personality and experience to full effect to provide a valuable and enjoyable course experience.
- Bromsgrove District Council